An energy tea experience for two.
BELLA'S RAPID FIRE PACKAGING PROJECT  |  SPRING 2017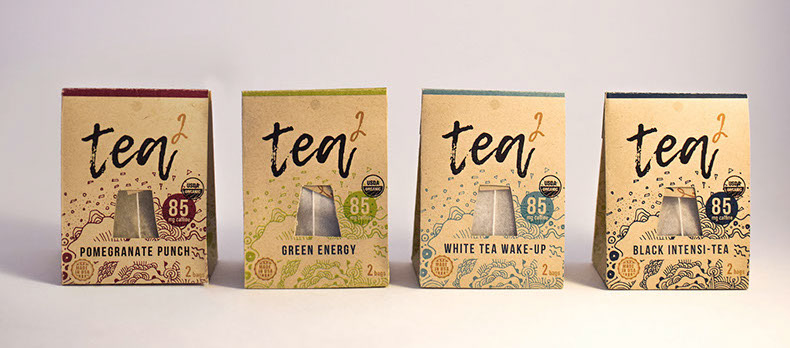 BUILD A COMPANY'S BRANDING AND PACKAGING IN A WEEKEND. GO.
Day one of packaging design class—our teacher wanted to throw us right into the heat of it. The only information the class was given was the name and description of the product: Tea for Two (or Tea Squared) is an organic energy tea company packaged in sets of two to be used with a friend. We were allowed to take the idea as far as we liked; from as simple as a sketch to as serious as a product line up. I went with the latter.
This project was a blast. I decided to create four flavors reflected in an organic but fun color palette and witty name combination. I designed packaging that mimicked the shape of a tea bag with a window cut in the front allowing for users to see the tea bags. The design on the back provides nutritional facts, directions, and a funny quote unique to each pack of tea.
I really enjoyed having creative freedom on this project and the results reflect that.