Year-long water rights awareness calendar benefitting water conservation in Mississippi
BELLA'S ENVIRONMENTAL PHILANTHROPIC DESIGN PROJECT |  SPRING 2017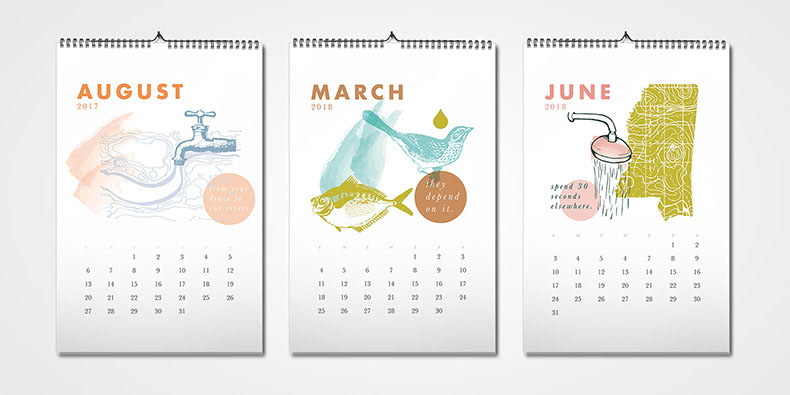 How can we as artists work for the greater good in life?
PRODUCTION DESIGN | ILLUSTRATION | BOOK ARTS | PACKAGING | MARKETING 
Honor 420: Water Rights challenged me as an artist to answer this question. The topic of the class explored water rights around the globe; as a class we focused on water rights in Mississippi. Each student was given the liberty to create a piece of art or collection that was a visual response to our studies and research over the semester. We as a class decided we wanted to be proactive with our art—we wanted to actually stimulate change rather than just complain about how the world is.
I decided to create a calendar as a monthly reminder to the viewer how truly precious the resource of water is. I designed, printed and bound 25 calendars and one was framed and displayed in the Sally McDonnell Barksdale Honors College over the summer of 2017. At the reception, the calendars were sold and half of the proceeds were given to water conservation efforts in Mississippi.